Add a Document to Client Record
---
This form allows you to add a document to a client record and can be accessed from various locations through myPractice.
In the Document / Phone calls tab
OR
Click Add Document

OR
In the Appointments or Clients toolbar
Click Attach Document
The Document - [Client Name] window will display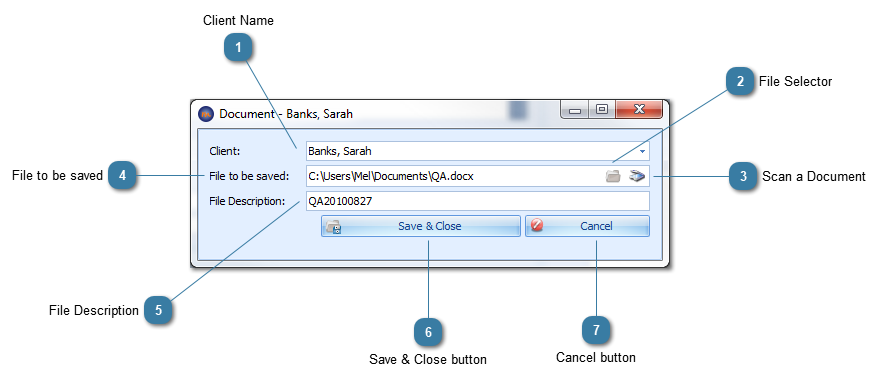 To directly Scan and save a document into myPractice
Click on the Scan Button.
myPractice will use your existing scanning software to scan the document into myPractice.  If you do not have any scanning software installed myPractice will be unable to scan the document. 

Once the document has been scanned the file path to the document will be displayed within "File to be Saved".

Scanning directly into a Fully Hosted myPractice setup is not currently available. Documents need to be scanned and saved on the local computer and added as a Document in the usual way.
Scanning into myPractice requires that your scanner driver be a TWAIN compatible driver. WIA drivers are not compatible.

Click Save and Close to save the document to the client record. 

Once saved all documents can be viewed within Client Details > Documents/Phone Calls tab as above
Click

to open the document
Click

to view information about the document
Click

to delete the document
Click
to print the document