---

Changing the settings within MPSettings.exe could seriously affect how Bp Allied functions. Please DO NOT change any settings without the guidance of the Bp Allied Support team. Please call, email or log onto remote support if you are experiencing technical difficulties with Bp Allied.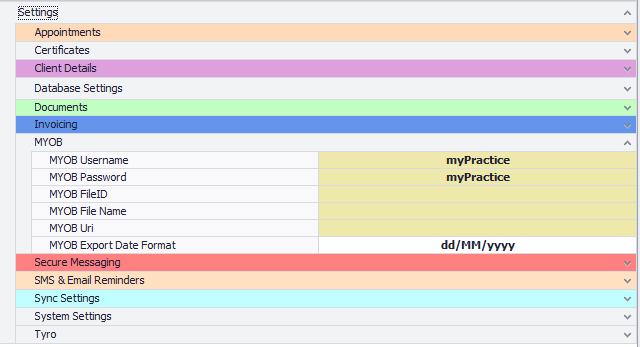 Setting

Is editable in Options*

 

Definition

MYOB Username

Username to log into MYOB on this computer

MYOB Password

Password to log into MYOB on this computer

MYOB FileID

MYOB file ID

MYOB File Name

File name as designated when the file was saved

MYOB Uri

MYOB file location. Set by Bp Allied when the MYOB file is selected.

MYOB Export Date Format

Date format as set in the MYOB Export
* Some settings that are stored in MPSettings are editable from System > Options in the Bp Allied User Interface.