Calendar Options allow you to adjust who can and can't see your calendar when they are logged into their own session of Bp Allied. Users must firstly be entered into User Administration prior to adjusting calendar settings. An administrator can set up the calendar options for a new user via the Calendar Administration option.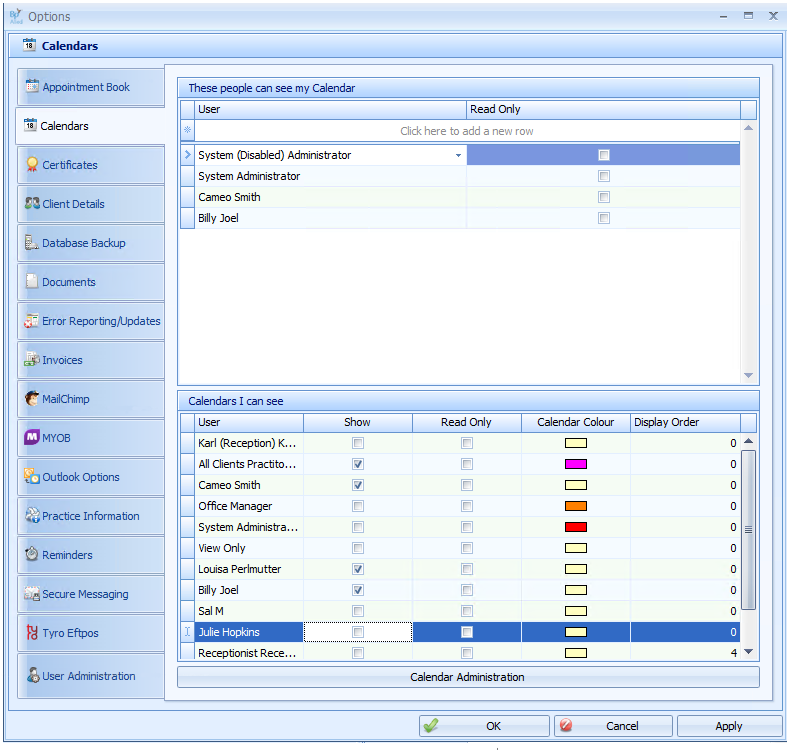 Field

Description

These people can see my Calendar

To allow a user access to your calendar, select Click here to add a new row and select the user you wish to grant access. 

Check the box Read Only if you do not want your calendar to be edited by that user.

Calendars I can see

Here you are able to see who has given you permission to view and edit their calendar. This may have been given by an administrator via Calendar Administration.

Select those user calendars you wish to see on your own screen by checking the

Show

box next to the username. 
Select the colour you want the user's calendar to be displayed as by clicking the arrow under

Calendar Colour

. 
Set the

Display Order

in which they will appear within your appointment book.

If you cannot see a user name within your list, you must have that user grant you access from their screen following the steps within These people can see my calendar above or ask your administrator for access.

Calender Administration (Administrator Only)

As an Administrator, use this option to manage which calendars a user sees from your desktop.

Remove from being displayed

If there is a calendar that you want to view in the Appointment Book then untick the

Show

field. By default when the Appointment Book is opened this calendar will not display.
Close and reopen the Appointment Book to see the changes.
If do not want to view a calendar (just for the moment), then untick the calendar from the Visible Calendars list in the toolbar on the right-hand side of the Appointment Book.

Remove from this view

For the actual entry to be removed from System > Options > Calenders > Calenders I can see then the person whose calendar you do not want to see would have to remove you from their list of These People can see my calendar.