Mailchimp is a web service that allows you to easily design and email newsletters to your clients. For many of our clients this service is likely to be free.
Watch the video on how to set up Mailchimp in Bp Allied.
Below are the instructions and settings to set up Bp Allied to export your Clients to Mailchimp for you to be able to email them newsletters or other marketing information. By setting up your Mailchimp sync in Bp Allied you can manage your Client newsletter list at the same time as you carry out your daily tasks. Go to the Mailchimp website to find out more about their services.
Before you start
To export Clients to Mailchimp they need the following to be set up in their Client Details information:
The Mailing List tickbox ticked. Use the Client Bulk Edit in Data Maintenance to add and manage these in bulk.
A valid email address that is ticked as the Primary Email address.
The fields exported are: Client ID, Name and Email Address.
Client ID must be unique.
NOTE  Mailchimp only allows ONE copy of an email address in a List, so if you have multiple clients using one email address only one of them will be imported into Mailchimp.
Resubscribing clients MUST be via Mailchimp – either manually or getting the client to log into Mailchimp and updating their subscription details (from a previous email). If a client has unsubscribed, the API will NOT allow re-subscription via BpAllied into Mailchimp.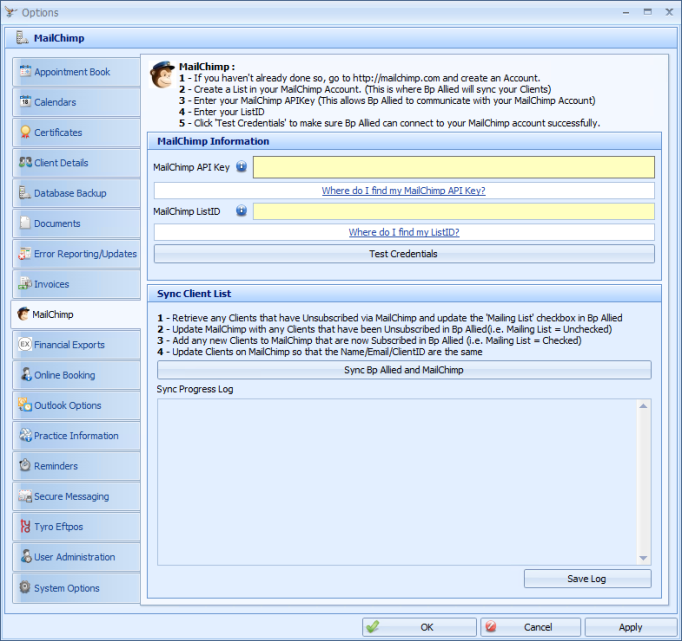 Enter Mailchimp API Key.

An API key is an encrypted key that allows Bp Allied full access to your Mailchimp account (without you actually logging on). Bp Allied uses this key to sync Client mailing List information with Mailchimp.

Find out how to create an API key here on the Mailchimp website.

Enter Mailchimp List ID.

The ListID is the encrypted name of your mailing list, e.g. 2a39609a

You will need to create a List in Mailchimp first.

Copy the ListID into the Mailchimp ListID field in Bp Allied..

Click

Test Credentials

to check that the API key and ListID details are correct. (You must do this so the API key and List ID values will save)

If it is, then the Test Succeeded message will display.

If not, then a Connection Failed error will display. In this case, remove and re-enter both your API and ListID keys.

NOTE  If a message similar to this, starting "Unable to find the resource at..." displays, the ListID is likely to be incorrect. The list may have been deleted. Try logging into MailChimp and selecting a new ListID.

Click the

Sync Bp Allied and Mailchimp

button to update the mailing list both in Bp Allied and in Mailchimp.

Run this prior to sending out each mailing list so that Mailchimp has the most up-to-date information.

The sync will upload any new clients with the appropriate triggers from Bp Allied into Mailchimp. Changes in the subscription status should be updated in both systems. New Clients added into Mailchimp will NOT come back into BpA but changes to a client's subscription status will update.

Click

OK

to save the changes and close the options window open.

Click Cancel to cancel the changes and close the options window open.

Click Apply to save the changes and keep the options window open.