The patient record contains a search function to look up conditions and items in a patient's past visits.
Open the patient record and select

Past visits

from the left hand tree. The list of past visits is displayed to the right, with the most recent visit at the bottom of the list.
Click

Search

. The

Search

screen appears.

Enter a word to search for and click

Search

.
Filter the list shown by

Reason for visit

or

Provider

.
Tick any of the following to further refine the list:

Hide non visits

— Hide notes of visit type 'non-visit', for example, if a non-provider inserted a note in the record that is not considered a visit.

Include Deleted

— Show visits that have been deleted.

Preview All Notes

— Include notes marked 'Confidential'. For example, if a provider has left the practice, tick this option to see if a provider has confidential notes recorded for a patient.

Any past visits that contain the search term will display in red in the list. Double-click a row to open the past visit record.
To view and print the entire list of past visits, click

View all

, which will open the list with details in the

Bp Premier

document viewer. Select

File

> 

Print

to print the document.
View deleted past visits
Deleted past visits remain in the database and can be searched and viewed. Tick the Include deleted checkbox to include deleted visits, which are shown with the same background colour as inactive patients.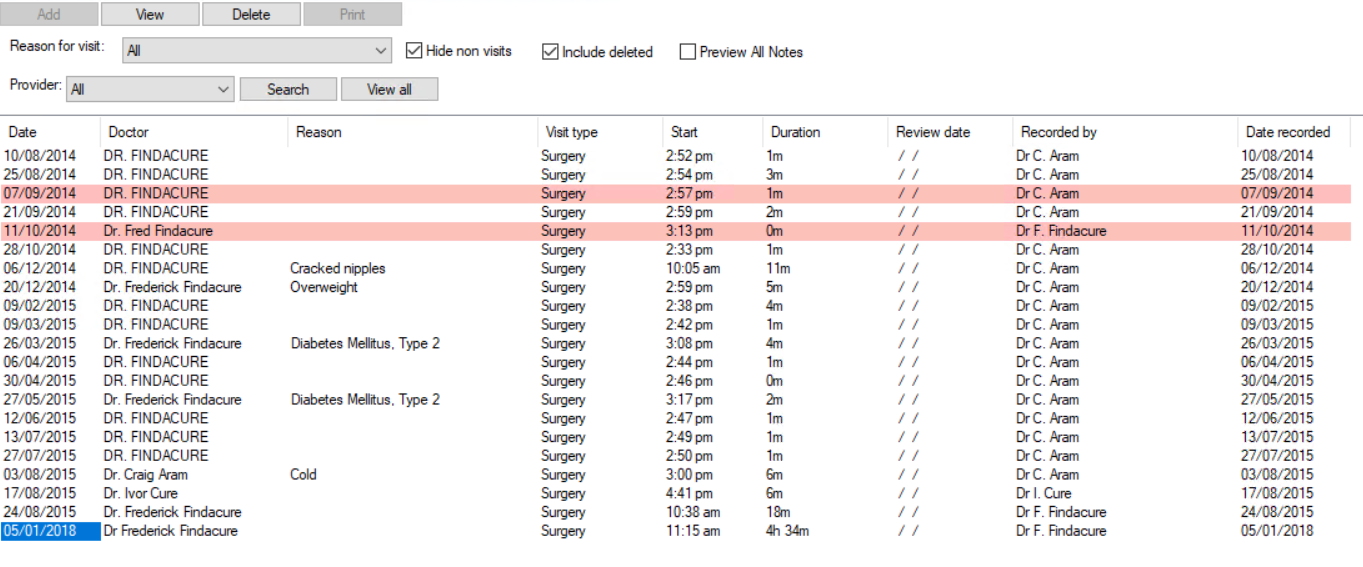 If you double-click a deleted visit, the notes will be clearly titled as deleted, including date and user.
You can view and print a deleted visit from this section, but deleted visits will not be included in documentation printed from the patient record for auditing or medical purposes. You can restore deleted visits using the Deleted visits utility.
View confidential past visits
Tick Preview All Notes to include visits where the provider has ticked the Confidential checkbox. A confidential visit will appear in the list, but if the logged-in user is not the user who marked the visit as confidential, the user must supply the emergency access password before the user is able to view or print the visit record.