The Best Practice Messaging Service is used to manage communications between Bp Premier and external gateways. Both Bp Comms and Eordering use the Messaging Service.
Most of the configuration for this service is automatically set up when you install the upgrade. However, you may need to engage your practice's IT support to ensure that any network firewalls at your practice allow incoming and outgoing connections to and from the Best Practice Messaging Service.
As part of troubleshooting and risk management, you can also nominate one or more users to receive an internal Bp Premier message on login if the service is stopped.
Enable firewall access
The Best Practice Messaging Service is visible in the Windows Services screen.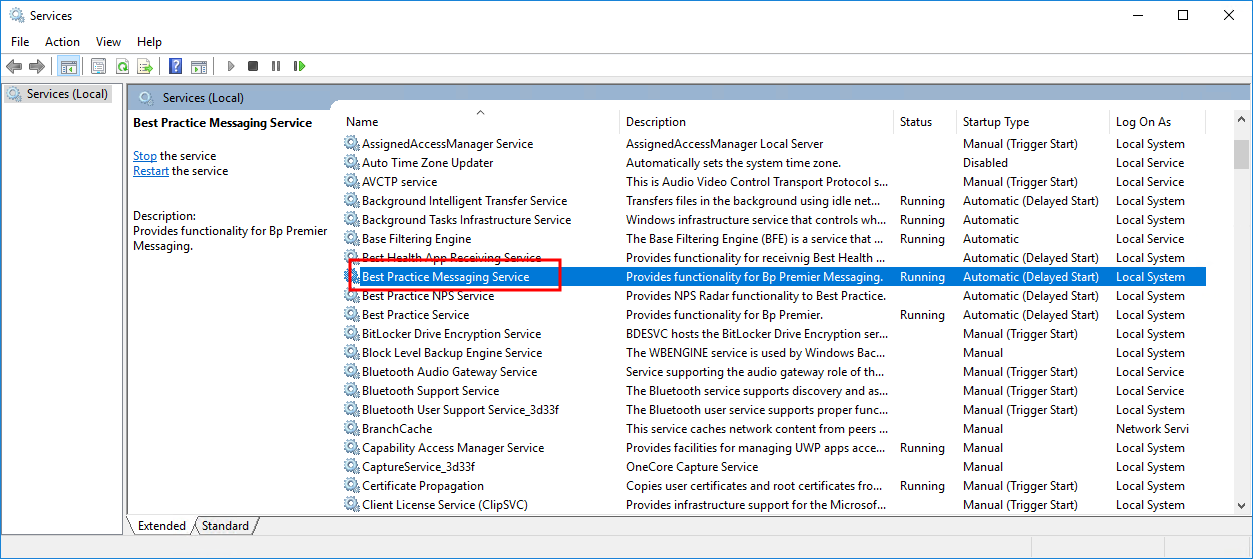 If this service appears in the list, and you have enabled Bp Comms in Bp Premier Configuration, but messages are not being forwarded, you may need to check that your network firewall is allowing the Best Practice Message Service to communicate through TCP/IP ports.
Information on checking firewall ports after installation is provided in Troubleshoot general client connections.
Warn a user when the Messaging Service stops
From the main screen of

Bp Premier

, select

Setup

> 

Configuration

> 

Msg Queue

tab.

Tick

Send a message to these users...

.
Tick the users that you want to receive an internal

Bp Premier

message if the message service cannot be contacted.
Click

Save

to save your configuration.
Configure the Message Service Machine Name
The Best Practice Messaging Service is deployed by default on your Bp Premier database server machine. When the Messaging Service starts for the first time, the location of the Messaging Service is updated to the server machine name, so clients will know where to send messages.
If for some reason Bp Premier can not connect to your database server via machine name (for example, DNS issues on your network, or the machine name did not update correctly), you can manually configure the messaging service machine, or connect via IP address instead.
From the main screen of

Bp Premier

, select

Setup

> 

Configuration

> 

Msg Queue

tab.
From the top list, select a queue.
Click the

Edit Machine Name

button.

Enter the IP Address or machine name of the machine in which the messaging service is location.

NOTE  If you are unsure how to obtain the IP Address of your server, contact your IT technician.

Click

OK

.
Repeat step 2 to 5 for each queue in the list.
Click

Save

.
Last updated 02 July 2021