TARB-Ex is an electronic screening tool for identifying risk of familial hypercholesterolaemia (FH) in general practice, available to download and run on Bp Premier version Saffron and later. TARB-Ex was developed by Professor Tom Brett, Dr Lakkhina Troeung and colleagues at the General Practice and Primary Health Care Research Unit at the School of Medicine, The University of Notre Dame Australia, Fremantle, Western Australia.
Download a copy of the installation file Tarb-Ex.zip from the Best Practice Software Resources Download page here, under Utilities > Tarb-Ex utility. Follow the instructions below to install and run TARB-Ex.
Install TARB-Ex
Copy the zip file you downloaded to the

Bp Premier

server computer.
Create a suitably named folder on the

Bp Premier

server, such as 'C:\Tarb-Ex'.
In a Windows file explorer, navigate to the folder you copied the file to. Right-click on the zip file and select

Extract All

.

You will be prompted for a location to unzip the file contents. Select the folder you created in step 2.
The Tarb-Ex utility files will be extracted to that location.
Run TARB-Ex
In a Windows file explorer, navigate to the folder

TARB-Ex

where you installed the files. Double-click the file TARB-Ex.exe to start TARB-Ex.
Provider a

Bp Premier

username and password. The user selected to log in must have the

Configuration

permission set to 'Allowed'. The TARB-ex application will open.
Click

Run

. The database search will take a few minutes.
After the search is complete, you will see a list of patients with their uncorrected and corrected Dutch Lipid scores and FH risk status.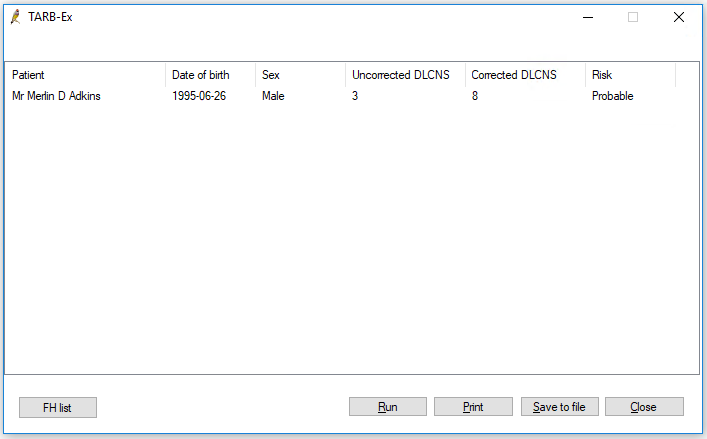 Click Save to File and save the file to a known location, such as the Windows desktop. This will save the list of patients and their Dutch Lipid scores in a comma-separated value file on the Desktop. A .CSV file can be opened in a spreadsheet application such as Microsoft Excel.
Duplicate patients
There may be duplicate patients on the TARB-Ex output list. This may happen if the patient was prescribed more than one statin medication in the preceding six months of their highest LDL measurement. TARB-Ex calculates a separate score for each medication taken.
Breakdown of calculated Dutch Lipid score
Double-click a patient's name in the TARB-Ex application to view a breakdown of the calculated Dutch Lipid score for each patient. The breakdown presented is for the corrected Dutch Lipid score and incorporates an LDL correction factor for patients who were prescribed a statin in the preceding six months of their highest LDL measurement.
The detailed breakdown of the score calculation can only be viewed using the TARS-Ex application. The exported CSV file will not contain the breakdown information.
Patients with familial hypercholesterolaemia (FH)
Click on the FH list button to generate a list of patients who have an existing diagnosis of FH recorded in their medical notes.
Last updated 01 April 2021