GP Respiratory Clinics and selected Indigenous Medical Centres (National Aboriginal Community Controlled Health Organisation clinics) have been provided with a specific AIR provider number for the entire practice for Covid-19 Vaccinations.
This article explains the configuration and administration workflow for Bp Premier practices that have been issued a dedicated provider number for this purpose. You will create a 'virtual' location that the AIR provider number can be assigned to, and then use the COVID-19 virtual location in immunisation and billing.
Before you begin
You will need the following pieces of information and actions:
The AIR provider number supplied to you.
The name of the location you will use in

Bp Premier

to denote a COVID-19 Vaccination. The example in this article uses 'COVID-19 Vaccination'.
1. Create a new location
Go to Setup > Practice Details > Add to add a new location. Create a new location called "Covid-19 Vaccine Clinic". Instructions for setting up another Location are available here. You only need to follow the instructions in Panel 2, Add practice details for each location.
Except for the descriptive Location name, all other fields in this screen should match the existing clinic location where the vaccinations will be given.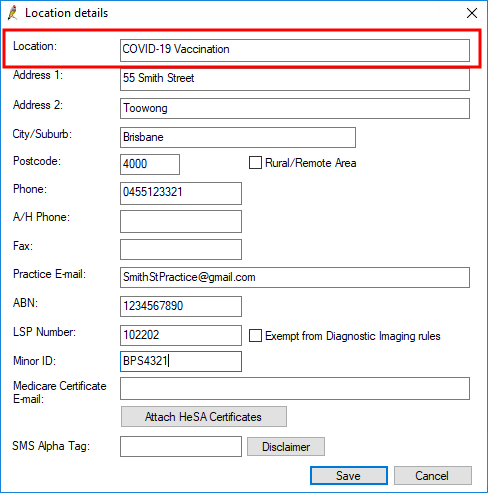 2. Assign all vaccinating providers to this location
Each provider who will be administering COVID-19 vaccinations from this clinic must have this AIR provider number and COVID-19 location added to their list of locations in Setup > Users > Location Manager. From the Provider Location Manager window, select the new COVID-19 Vaccination Location and click Set. Enter the AIR Provider Number you have been given into the field Enter the Provider Number.
Information on adding provider numbers for a location is available here.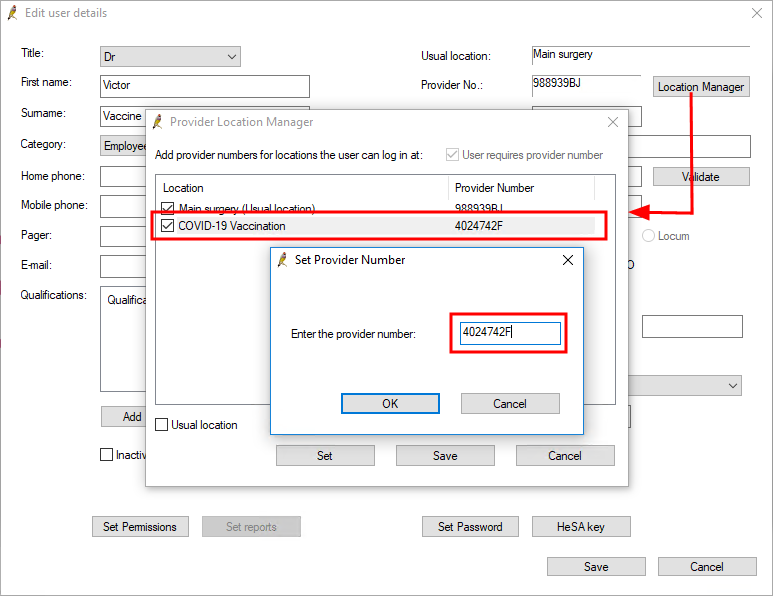 3. Select the COVID-19 location at immunisation
When recording the immunisation (Patient Record > Immunisations > Add), the Billing Provider selected in the Immunisation window must be the Provider for the COVID-19 location you set up in the previous step, not the provider at his or her usual location.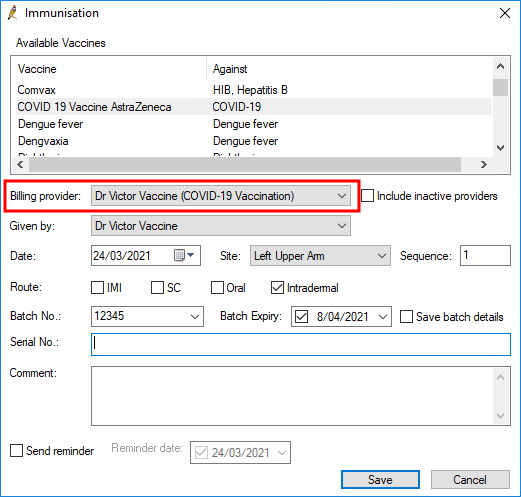 4. Select the correct location when billing the vaccination
When completing the billing for the vaccination, staff should check the clinic's normal billing location is selected under the Location dropdown in the Account details window. Do not select the COVID-19 location.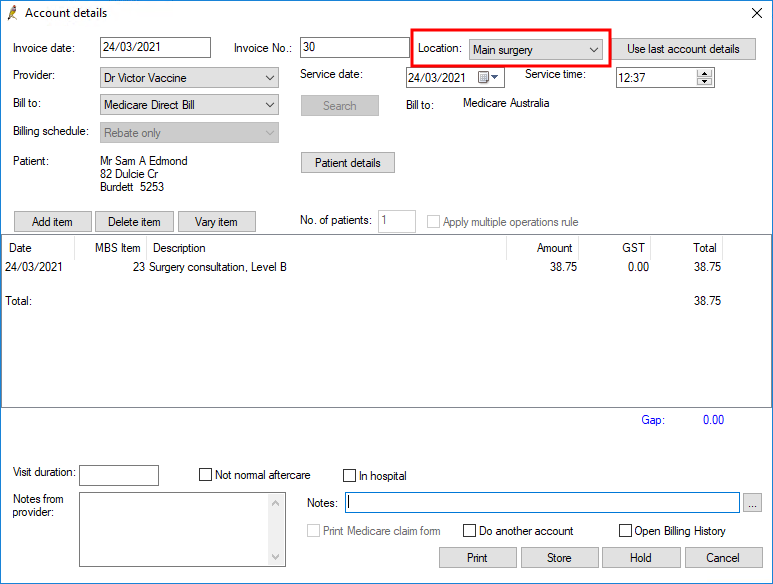 5. Upload to AIR
If you have followed the setup and billing steps correctly, the AIR upload should use the new provider number and location from the Immunisations window.
Check the Location displayed before submitting to AIR. If the COVID-19 Vaccination location is not selected, you will have to adjust the immunisation record for the patient and update the Billing provider before submitting.

Last updated 24 March 2021