NOTE  If you have upgraded to Saffron Service Pack 1, eOrdering should be configured through the eOrdering setup screen available via Contacts > Setup. See Set up Pathology eOrdering in Saffron SP1 or later and Set up Imaging eOrdering in Saffron SP1 or later for more information.
This article describes how to indicate in a provider's preferences whether a laboratory will use preprinted stationery or plain paper.
Set a lab's paper type
Select

Setup

>

Preferences

>

Pathology

from the main

Bp Premier

screen. The

User preferences

screen will be displayed for pathology.
In the

Laboratory Details

section at the bottom right, select the laboratory that you want to set up the layout for and click

Edit

. This will display the

Laboratory code

screen.

Complete the fields in this screen:

Field

Description

Laboratory code

If a laboratory code has been provided to you by the lab, it can be entered here.

To add the code, click Edit laboratory code. The Laboratory Code screen will appear. Select the location you wish to add a laboratory code for and click Set. Enter the code for the location and click OK.

Preferred laboratory

Tick this box if this laboratory is the user's preferred laboratory. When the user creates a pathology request from the patient record, the request will default to this pathology lab.

Use plain paper

Tick this box if the laboratory does not provide pre-printed stationery.

Paper has specimen labels

Tick this box if the pre-printed stationery has a section for specimen labels.

When this box is ticked, the Move duplicate section down and Move labels down fields become available. Enter a measurement in mm to adjust the position from the top left that the duplicate and label sections are printed.

Click

Save

. Pathology requests can now be printed for this laboratory.
Print a pathology form
When printing a request from the patient's record, the Pathology request screen appears.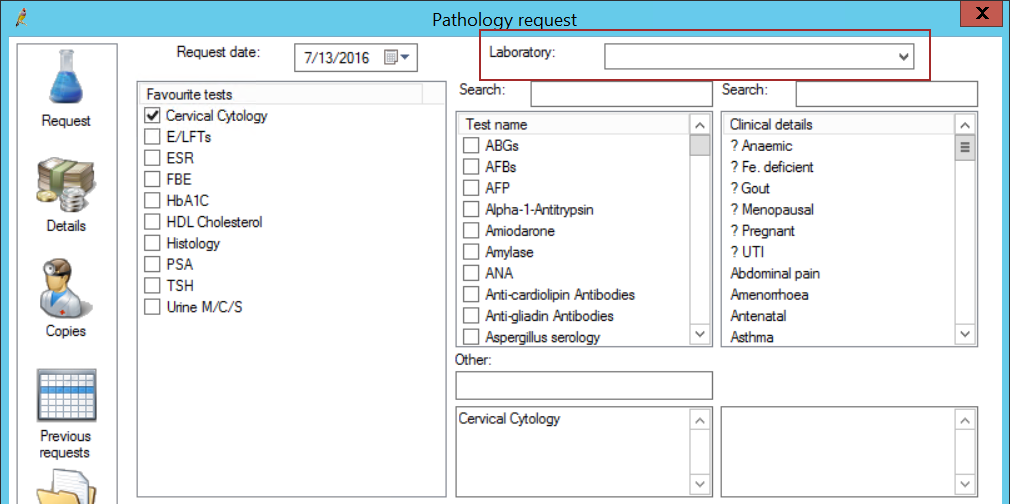 Plain Paper Form
If there is no laboratory selected from the Laboratory drop-down list, the request will print on plain paper.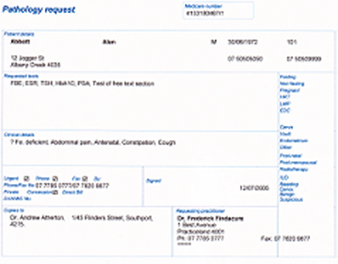 Pre-printed Form
If there is a laboratory selected from the Laboratory drop down list, the request will print so that you can use pre-printed paper according to the lab's layout settings.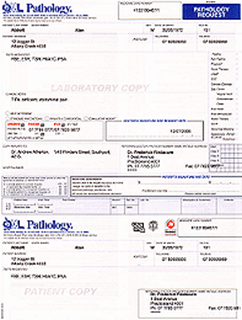 Last updated 23 July 2020