You should create a complex account if services have been performed over a range of dates, and you need to address all services in a single account.
If the account is for a single consultation and all services have the same service date, you should create a simple account instead.
Create new account
Depending on where you are in

Bp Premier

:
From the main screen, select

Management

>

Create complex account

From the

Account Holder History

screen, go to

File

>

New complex account

.
If you are creating the complex account from the main screen, the

Select Patient

screen will be displayed. Search for a patient and click

Select

.
The Account details screen will be displayed.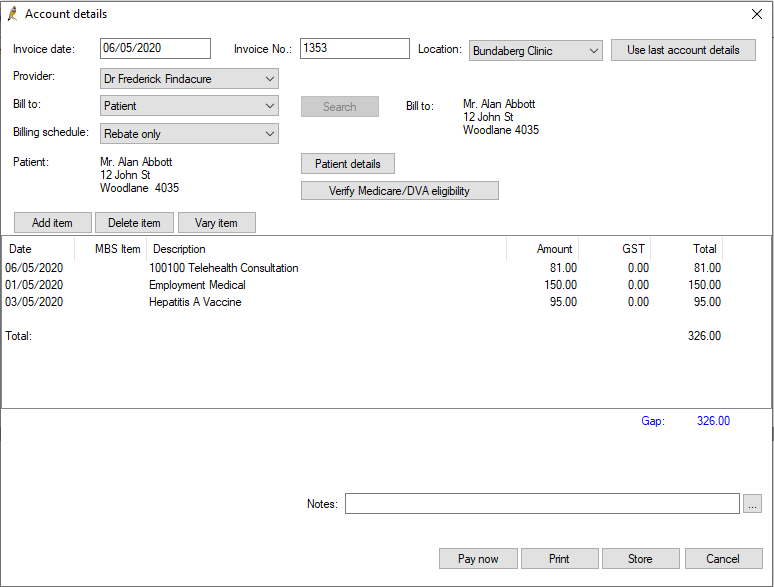 Check the details in this screen are correct, and make any changes necessary. For example, you may need to change the location or billing schedule.
NOTE  WorkCover defaults to the WorkCover address entered in the Setup > Configuration > Workcover screen. This is only valid in states where accounts are sent directly to WorkCover (such as Queensland).
Add service details
To add items to the account, click

Add item

. The

Account item

screen will appear.

Search for the MBS item you require and double-click on the description or double-click on the fee in the

Fee list

to populate the

Description of service

and

Fee to charge

fields.
Set the

Service date

for the item. Complex accounts allow you to add items over a range of service dates.
Tick

Not normal aftercare

or

In hospital

if applicable.<![CDATA[ ]]>
If the service item claimed has a derived fee that changes depending upon the number of patients seen, edit the

No of patients

field. Otherwise, leave at '1'.
Some services, such as excisions and care plans, require additional information such as location, or type. Enter this information into the

Service details

field.

NOTE  Certain items can only be claimed together, or duplicate items on the same day, if you supply a Medicare Restrictive Override code (restriction code). See Restriction codes for more information.

If your practice provides diagnostic imaging services, tick

Self deemed

to bill a diagnostic imaging item number, or tick

Substituted Service

to bill a diagnostic imaging item number that has replaced the original service requested.
Click

Add

to return to the

Account details

screen. Or click

Add another

to add the item to the account and clear the current screen to add another item.
Repeat for each service you want to add to the account.
Finalise the Account
Finalise the account and process the payment for the account by selecting one of the following:
Pay now

— saves the invoice and displays the payment screen ready for the payment details to be entered

Print

— saves the invoice and prints a copy of the account for the patient

Store

— saves the invoice so that it can be finalised later

Cancel

— cancels the account or undoes any changes made to an existing account.
Related topics
Last updated 23 July 2020