NOTE  Consider copyright implications when copying and pasting the information from the patient education leaflets.
Patient Education materials provide additional, take-home information about a diagnosis, strategies to improve health, or for any other reason a provider deems necessary.
Patient Education documents are accessible under View > Patient Education Material from the main screen and from the patient record.
The Patient Education Materials screen lists source materials on the left and a document viewer on the right: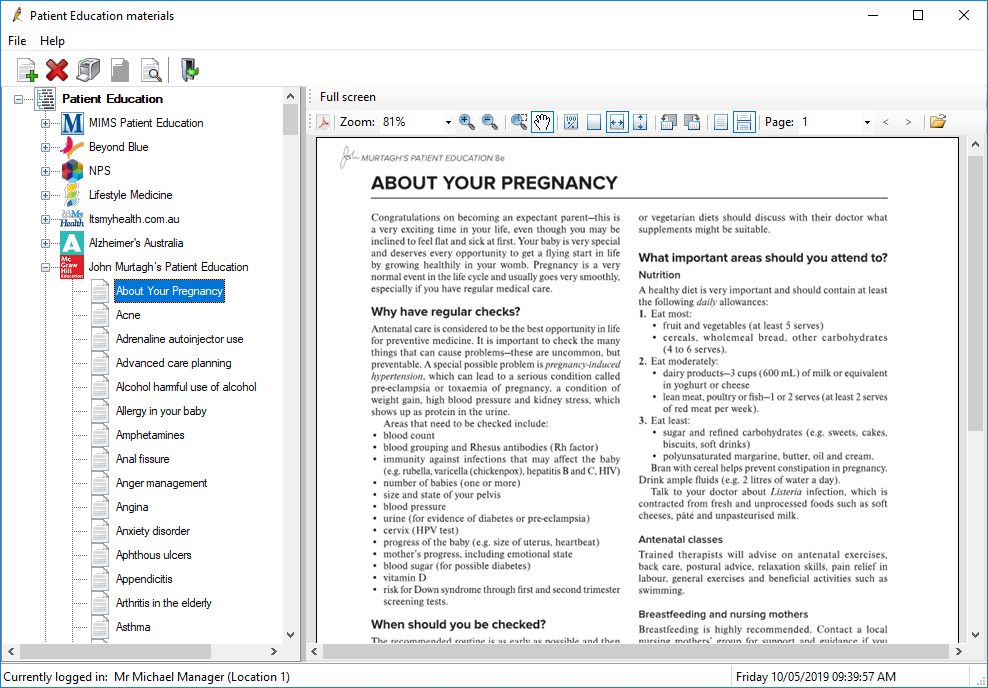 Patient information from the following sources is available:
MIMS Patient Education
Beyond Blue
NPS
Lifestyle Medicine
Itsmyhealth.com.au
Alzheimer's Australia
John Murtagh's Patient Education
Nutrition Plus
Anatomical images for reference
Import patient education materials
You can import the following types of documents into Bp Premier as Patient Education materials:
PDF (Adobe PDF document type)
DOC and DOCX (Word document)
RTF (Rich Text Format)
JPG (Joint Photographic Experts Group image type)
PNG (Portable Network Graphic image type)
TIF (Tagged Image Format File image type).
From the

Patient Education materials

screen, click

File

>

Import

. The

Import patient education leaflet

screen will appear.

Search

for the document to import.
Select an existing category, or add a new category for the document.
Enter the

Leaflet name

to appear in the

Patient Education Materials

screen, otherwise the file name will be used.
Tick

Available to all users

if all users are to be given access to this document. Otherwise, only the provider who imported the document will be able to view and print the material.
Print patient education materials
Select the document in the Patient Education Materials screen and select File > Print from the menu.
If the Patient Education material has been opened from a patient record, select File > Mark as printed to mark in Today's Notes that the material has been printed for the patient.
Last updated 23 July 2020