This article provides information and resources for clinics booking eligible patients for their COVID-19 vaccinations. The article will be updated soon with more guidance on the different methods available to Bp Premier users to manage booking and vaccinations workflows in Bp Premier.
IMPORTANT  The guidance in this article accords with the information available to Best Practice Software up to the Last Updated date of publication. However, updates to the Australian COVID-19 Phase 1B vaccine roll out are frequent and can occur at short notice. If you are seeking information outside of usage of Bp Premier software, we recommend frequently checking the government and health department resources below for the latest information.
COVID-19 vaccine resources
If clicking the link does not begin downloading the file, right click the link and select Save link as or Save target as to download the file. Some browsers may alert a security risk in the bottom of your browser. However, you can safely choose to keep the files below to download.
Covid consent form
The COVID-19 Vaccination Consent Form template in Bp Premier is updated with the latest version from the Department of Health where possible every Data Update. Between Data Updates, you can download a more recent .rtf version of the form here. (Right-click and select Save as.) This form has a datestamp in the filename.
You can check that you have the latest form by checking the Last updated date on the Department of Health page for this form. To import the latest possible consent form into Bp Premier:
Download the Word (.docx) version of the consent form from the Department of Health page.
Open the file in Microsoft Word.
In Windows, search for the app 'Wordpad' and open Wordpad.
In Word, press Ctrl+A to select the entire contents of the document.
Press Ctrl+V to copy the entire contents.
In Wordpad, press Ctrl+V to paste the contents of the consent form.
In Wordpad, save the file as a .rtf file with a descriptive name.
You can now import the .rtf file into

Bp Premier

as a template.
Inform your staff that a new consent form template is available.
Practice resources
Patient resources
| Resource | Description |
| --- | --- |
| | Patients can use the eligibility checker to find out which phase of the roll-out they will be eligible for vaccination in. |
| | Patient information on vaccine eligibility and prioritisation. |
| | Latest news from the Department of Health on COVID-19 vaccination in Australia. |
Vaccine roll-out phases
Phase 1a of the COVID-19 vaccine roll-out has already started. People eligible for Phase 1a include:
quarantine and border workers
prioritised frontline healthcare workers
aged care and disability care staff
aged care and disability care residents.
Phase 1b is planned to commence on 22 March 2021 and will include:
elderly people
other health care workers
Aboriginal and Torres Strait Islander people over 55 years of age
younger adults with an underlying health condition, including those with a disability
critical and high-risk workers (defence, police, fire, emergency services, meat processing).
The Department of Health have collated a document listing frequently asked questions for practices wishing to participate in phase 1b.
See Australia's COVID-19 vaccine national roll-out strategy for more information about vaccine roll-out phases.
When your practice begins providing COVID-19 vaccines, you may wish to group patients receiving the vaccine in the appointment book. See Group patients in the appointment book by user for more information.
The Immunisation Management Be In The Know video also provides information on numerous aspects of immunisation management, including suggested workflows for immunisation clinics.
Commonwealth Booking Platform
The Commonwealth Booking Platform will provide one front door where people can check their eligibility and find out where to get a vaccine, with links to call clinics or book online.
The Commonwealth Booking Platform will be based on the existing National Health Services Directory (NHDS), operated by Healthdirect Australia on behalf of the Department of Health.
To facilitate easy and convenient patient bookings, clinics that already have an online booking system should register their booking system with NHDS and can continue to operate without substantial changes to their existing booking processes.
Patients will be able to check their eligibility for vaccination by navigating to the Commonwealth Booking System website and completing a questionnaire.
If the patient is eligible for phase 1b according to the questionnaire results, they will have the option to search for their nearest clinic providing COVID-19 vaccinations and book an appointment.
Group patients in the appointment book
Below are some suggestions for how you may wish to group vaccination patients in Bp Premier.
Group patients by user
How to group by a named user in the appointment book, such as 'COVID-19 appointments', and how this affects the finalisation and billing workflow.
This method is quicker to set up, but provides fewer reporting options than grouping patients by location.
See Group patients in the appointment book by user for more information.
Group patients by location
how to group by a named Location, such as 'COVID-19 appointments', and how this affects the finalisation and billing workflow.
This method gives a practice more options for reporting by location. However, it requires more initial setup, as providers need to be assigned to the new location with a provider number.
See Group patients in the appointment book by location for more information.
Reminder options for the second dose
Once the initial dose has been administered, patients will be required to return to the same clinic for their second dose. The below strategies may be helpful in ensuring the second dose is administered within a suitable timeframe.
Book a future appointment for dose two
Patients can be booked in for their second dose appointment while at the clinic receiving their initial dose.
When finalising a visit, the clinician may choose to send a 'note to reception' with instructions to book a second appointment for the relevant number of weeks in the future.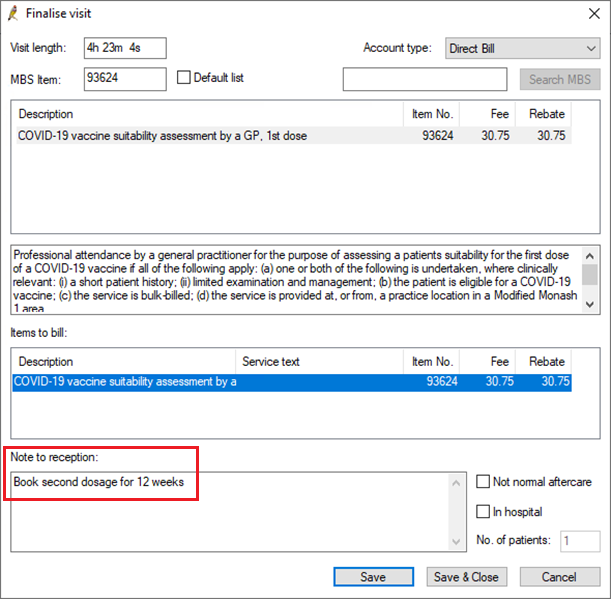 Otherwise, clinicians can create future bookings themselves from the patient record.
From Today's notes, click

Review

. The Review screen will appear.

Select

On date:

, choose a date for the next appointment, and click

Book

. The Review appointment screen will appear.
Select an appointment time and type, add any extra information to the

Details:

field, and click

Save

.
Click

Save

again to return to the patient record.
Add a reminder type and record a clinical reminder
If your practice has not booked the patient in for their second dose appointment, you can set up a reminder for the patient to book their second appointment.
To add a new reminder reason:
Select

Setup

>

Configuration

from the main menu. Select the

Reminders

tab.
Under

Reminder reason

, click

Add

. The Reminder reason screen will appear.
Add an appropriate name to the Reason field, such as COVID 2nd Dose.
Set the default interval to an appropriate time based on the recommended interval for the vaccine you are providing. See Australian Technical Advisory Group on Immunisation (ATAGI) Clinical guidance on use of COVID-19 vaccine in Australia in 2021 for more information about vaccine intervals.
Providers will now be able to select the reminder reason when creating a reminder.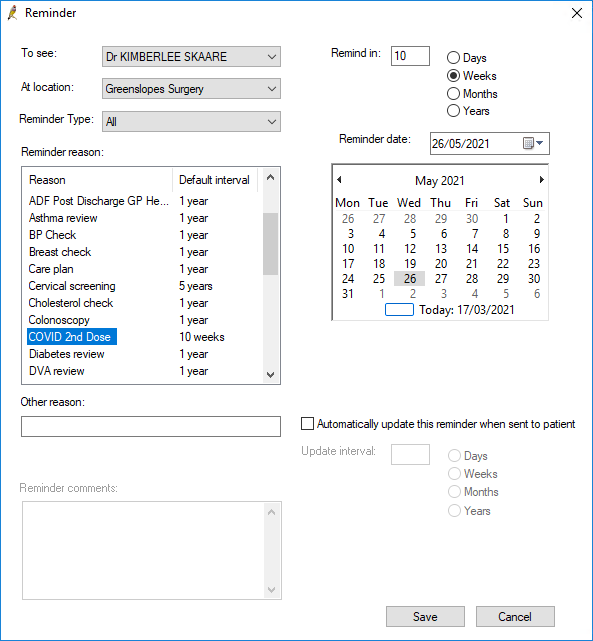 Follow the normal process for sending clinical reminders. See Send clinical reminders for more information.
Last updated 19 March 2021